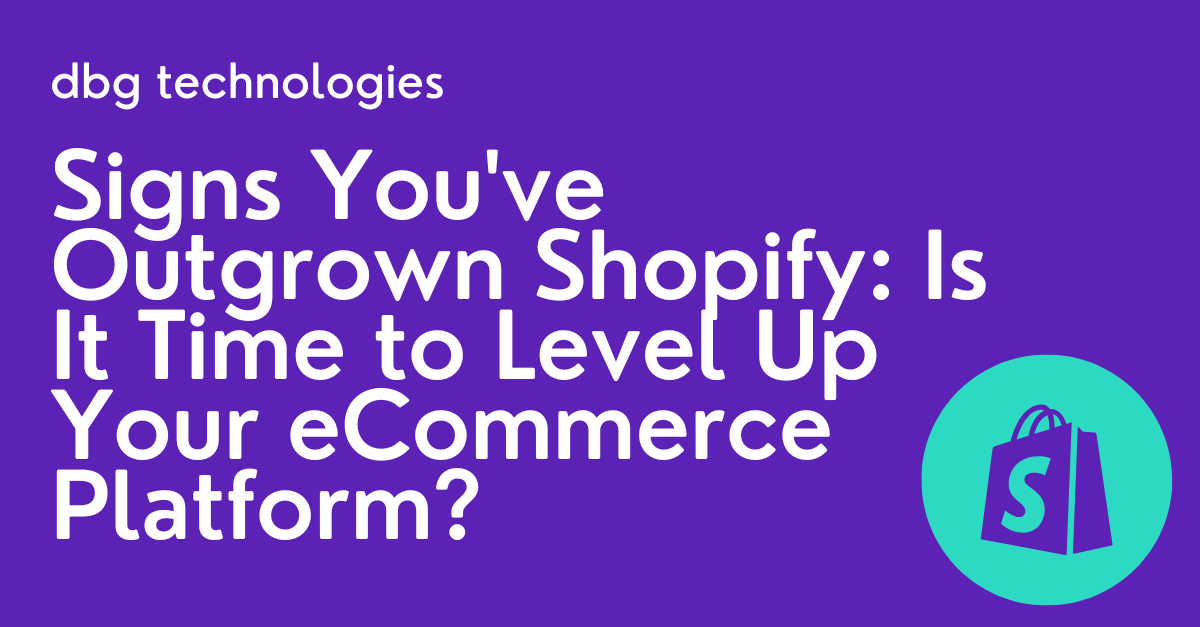 Shopify is a powerful and popular eCommerce platform that has helped countless businesses establish and grow their online presence. However, as your business evolves and expands, there may come a point where you start to outgrow the capabilities and limitations of Shopify.
One clear sign that you may have outgrown Shopify is if you are dealing with complex inventory management requirements. As your product catalogue expands, along with variations in sizes, colours, and other attributes, you might find Shopify's inventory management tools limiting. If you need advanced inventory tracking, multi-warehouse management, or integration with specialised inventory systems, it may be a sign that you need a more robust platform.
As your business experiences significant growth, you may find that Shopify's infrastructure struggles to handle high volumes of sales and traffic. Slow load times, checkout delays, and website performance issues can lead to a poor user experience and lost sales opportunities. If you consistently experience these challenges, it may be an indication that you need a platform with more scalability and advanced infrastructure to support your increasing traffic and sales demands.
While Shopify offers a range of customisable themes and basic functionality, there may come a point where you require more advanced features and customisation options. If your business requires highly tailored checkout processes, complex product configurators, or intricate pricing rules, you may find Shopify's limitations constraining. Moving to a platform with greater flexibility and customisation capabilities can help you meet your unique business requirements.
Expanding your business globally requires robust localisation capabilities, including multi-currency support, localised pricing, tax calculations, and language translations. While Shopify offers some international features, if your business demands advanced localisation tools and seamless integration with third-party providers, it may be an indication that you need to explore more comprehensive eCommerce platforms designed for international growth.
As your business matures, you may seek more sophisticated marketing and personalisation capabilities to engage your customers and drive conversions. Advanced segmentation, targeted email marketing, personalised product recommendations, and A/B testing are just a few examples of features that may be limited in Shopify's native offerings. If you find your marketing efforts hindered by these limitations, it might be time to consider a platform that provides robust marketing automation and personalisation features.
If your business requires seamless integration with enterprise systems such as ERP (Enterprise Resource Planning), CRM (Customer Relationship Management), or advanced analytics tools, Shopify's native integrations may not meet your needs. If you find yourself constantly juggling multiple systems and struggling to streamline your operations, it could be a sign that you've outgrown Shopify and require a more integrated and scalable eCommerce solution.
Shopify has proven to be a reliable platform for numerous businesses, but its capabilities and limitations may not align with the evolving needs of a growing enterprise. If you find yourself dealing with complex inventory management, experiencing performance issues due to high volume sales and traffic, craving advanced customisation and features, expanding internationally, seeking advanced marketing and personalisation tools, or requiring seamless integration with enterprise systems, it may be time to consider migrating to a more advanced eCommerce platform, which is where our LiveCube solution can help.