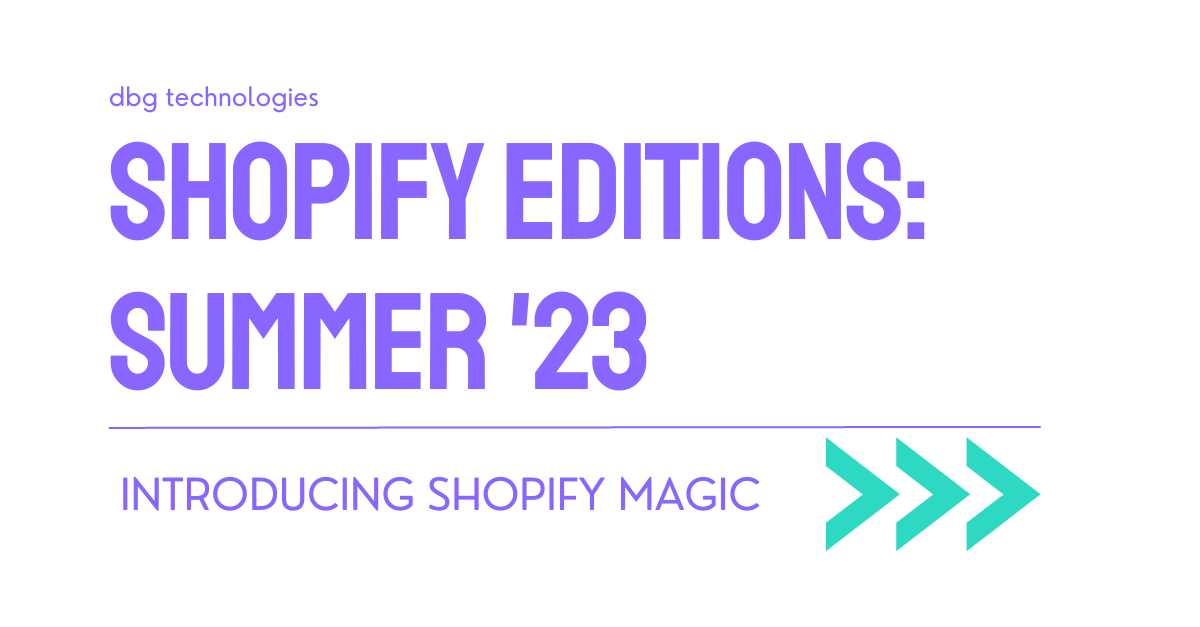 Shopify merchants Summer '23 Edition promises AI-infused, built-for-commerce magic with super small, quality of life improvements, uplifted admin design, flex sections, unified marketplace selling to streamline operations, and Checkout optimisations.
With 100 updates across Shopify that allows merchants to be more productive, creative, and powerful than ever before—  "ushering in a new era of commerce full of brand new possibilities".
Some of the key features include: 
Shopify Checkout and Shop Store
Optimise your Shop Store for millions of mobile shoppers and increase Conversions by 15%.
Shop Store allows you personalise your native mobile store with rich media headers and to showcase your inventory with customisable collections, categories, and navigation.
With Shopify Checkout, you get the best conversion, globally recognised buyer experience, proven reliability and performance, and flexibility to customise what you need for your business.
Shopify Email Content Magic 
Create high-performing email campaigns faster by generating compelling subject lines and body content with Shopify Magic. Schedule emails to send at the best time, using data-driven insights from millions of businesses across our platform.
This feature also offers:
Design branded emails easily
Use templates and skip coding
Automate emails in no time
Manage campaigns within Shopify
Shopify Subscriptions App
Easily set up and manage simple subscription offerings with the new, free Shopify Subscriptions app. With new customer accounts, your customers will have the flexibility to pause or skip orders, update payment and shipping details, and more.
Driving B2B Growth
And new features that make ordering easier for your wholesale buyers and make it easier for you to sell DTC and B2B from the same shop:
Volume pricing: Easily implement quantity price breaks to encourage business customers to buy in larger quantities
Store personalisation: Design website pages optimised for your business customers, surfacing relevant content in a single store—no coding required
Quick order lists: Show customers a list of product variants, so they can easily order sizes, colors, and more, all from one section of your product pages
PayPal payments: Customers can now conveniently pay for their orders and invoices with PayPal, and you can easily reconcile payments in the admin
Vaulted credit cards: Now business customers can use a previously stored credit card on draft orders at checkout or when paying an invoice.
Developer Updates
In addition there are also a stack of developer updates to custom build the templates to work for each set of specifics including:
Address Validation in Checkout
POS workflows with Smart Grid and modal extensions
Metafields performance increased to 4x faster
Enhanced checkout editor
Full release Cart Transform Function
Custom checkout fonts
Admin UI externsions with API access
Config as code
Enhanced developer onboarding experience
Customised delivery methods
Segmention for apps
Server side validation logic for cart and checkout
API's to support more than 100 product variants
Faster headless builds with CLI, Remix and custom obserability.
And so so much more – https://www.shopify.com/editions/summer2023 
If you'd like to discuss moving your store to Shopify and how we can help, or updating with any of the new release functions, please reach out, we would love to help.