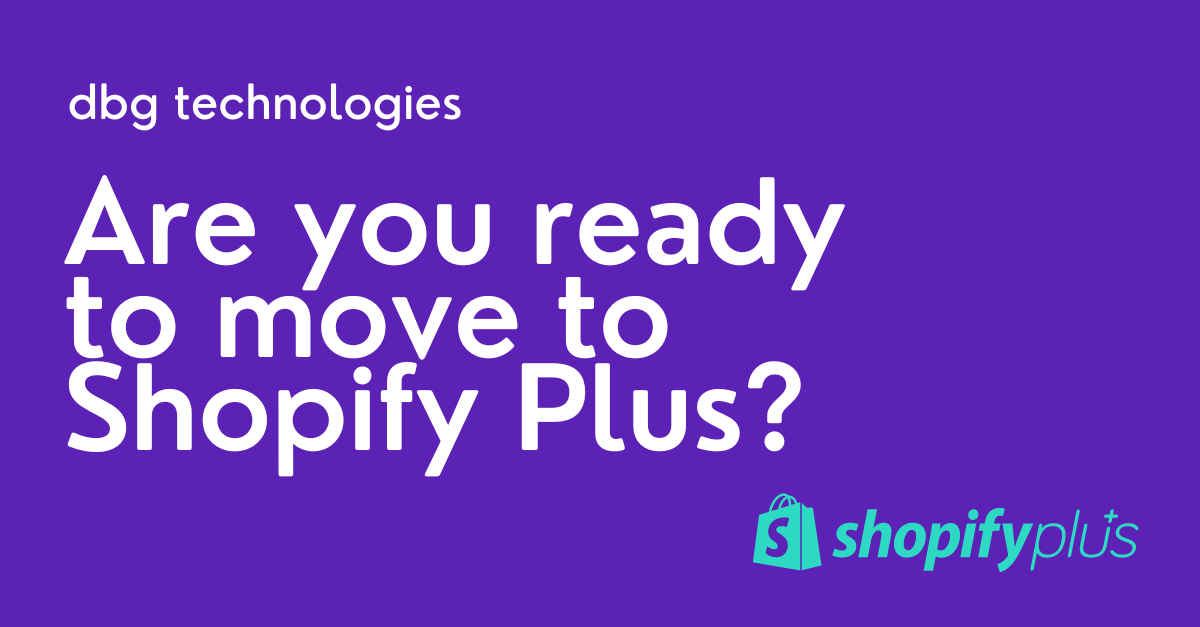 Are you running a successful eCommerce store on Shopify, but finding that your business is growing faster than your current platform can keep up with? Are you looking for a more robust, scalable solution to help take your business to the next level? If so, it may be time to consider Shopify Plus.
Shopify Plus is the enterprise-level version of the popular Shopify eCommerce platform. Designed specifically for high-volume merchants, Shopify Plus offers a range of advanced features and customisation options that can help businesses scale and grow more effectively. But how do you know if Shopify Plus is right for your business? Here are some things to consider.
Your Business is Growing Rapidly
If your business is growing quickly, you may be experiencing some pain points with your current eCommerce platform. Perhaps you're hitting limits on the number of products you can sell or the amount of traffic your site can handle. Maybe you're struggling to manage inventory, orders, and customer data across multiple sales channels. If so, Shopify Plus can help.
With Shopify Plus, you'll have access to powerful features like bulk editing, automation tools, and integrations with popular enterprise platforms. Plus, Shopify Plus is built on a cloud-based infrastructure that can handle massive traffic spikes and scale with your business as it grows.
You Need More Customization Options
One of the biggest advantages of Shopify Plus is the level of customization it offers. With Shopify Plus, you'll have access to advanced theming tools and APIs that allow you to build completely custom storefronts, checkout experiences, and backend workflows. This can be especially valuable if you have unique business requirements or want to create a highly differentiated shopping experience for your customers.
You Want More Control Over Your Storefront
Another advantage of Shopify Plus is the level of control it gives you over your storefront. With Shopify Plus, you'll have access to a dedicated account manager who can help you with everything from theme customisation to app integrations. Plus, you'll have the ability to create custom pricing rules, set up wholesale channels, and create exclusive customer groups.
You're Ready to Invest in Your Ecommerce Infrastructure
While Shopify Plus offers many advantages, it's important to note that it comes with a higher price tag than standard Shopify plans. Pricing for Shopify Plus starts at $2,000 per month, plus a percentage of your monthly sales. However, for businesses that are ready to invest in their eCommerce infrastructure, the ROI can be significant. With Shopify Plus, you'll have access to a range of features and resources that can help you grow your business more efficiently and effectively.
If you're still unsure whether Shopify Plus is right for your business, consider scheduling a consultation with a Shopify Plus expert. They can help you evaluate your current eCommerce infrastructure, identify pain points and growth opportunities, and determine whether Shopify Plus is the right solution for your business.
Shopify Plus is a powerful eCommerce platform that offers advanced features, customisation options, and scalability for high-volume merchants. If you're ready to invest in your eCommerce infrastructure and take your business to the next level, Shopify Plus may be the right solution for you.
Speak to us today and we can help point you in the right direction.