This is a guest post by Chris Schwarz from The Search Guys; an Adelaide based online marketing company.
A few weeks ago, Tamara touched on some strategies about how to conduct online competitor research and produced a handy PDF checklist. She discussed some simple visual analysis techniques of their website, some nifty Google searches and key social media metrics to compare.
I'd like to build on her ideas about unlocking some simple strategies about your competitors in 3 categories:
Website authority and size
Content quality
Marketing strategy
Website authority and size
Search engines are smart creatures and are able to assess your website on a variety of metrics. One of the most important metrics is the authority of the domain which aggregates the total power of a website and its ability to rank broadly in search engines.
Website authority takes time (often years) and resources to acquire.
A common metric to measure website authority is Google Page Rank – take this number with a grain of salt as it's not always accurate and is updated only a few times per year. To find the Google Page Rank of a website, enter your URL into the field on this website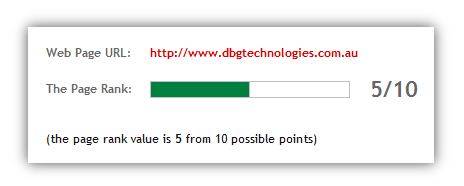 Google Page Rank is a measure out of 10, but it's important to note that it's logarithmic which means it's approximately 10 times harder to get from a score of 5 to 6 than it is from 4 to 5. To put Page Rank into perspective, Google.com, facebook.com have a PR of 10; news.com.au has a Page Rank of 7.
We can measure a website's size by making an approximation as to the number of pages on the website or more specifically how many pages Google has found. Although quite a crude approximation, for simplicity's sake, the more pages a website has than the more keywords they can possible rank for. To find out this value, we conduct a Google search of the site's URL with a "site:" operator in the beginning.
If we wanted to investigate how many pages were on a local Adelaide cleaning company Atlas ChemDry

We find that Atlas Chem Dry has 13 pages on their website.
If we compare this to a competitor that 200 pages, it might give an indication that Atlas Chem Dry needs more optimised content on their website.
I would just like to place a disclaimer here, that the number Google states will never be the number of pages exactly on your website. In fact, it might be quite erroneous due to website technical errors.
Content quality
Ask your friends and family to read the content on a competitor's website alongside the content on your own website. Specifically, I'm talking about analysing the services page, the products page and/or the blogs posts.
Ask them to give an honest opinion as to the content quality. Some questions might revolve around:
Is the content original?
Is the content relevant to the customer?
Does the content raise questions that are not answered?
Does the content differentiate itself?
Is there an easy way to contact the business?
Your friends and family might have their bias blinkers on, so here are a few other sources that you could use to crowdsource some objective feedback on your website:
>> Feedback Army
>> Five Second Test
Marketing strategy
We conduct in depth online competitor research on a daily basis here at The Search Guys, one of the areas of our competitor report involves investigating competitor's marketing strategies.
SEO Strategy
If a competitor has taken on an SEO strategy they will most likely have a blog and a large number of pages on their site (remember the site:URL search I discussed earlier?). One sneaky way to find an estimate of the number of organic keywords a website is ranking for is to load up an SEO tool called SEMrush
>> SEMrush
Type in a URL, and select the Google: AU domain and click Search.

In this example we can see that Tradelink ranks for 415 keywords. If you we're Tradelink's competitor wouldn't it be a good sign to know you ranked for more keywords.
Again, a disclaimer must be mentioned: These services are estimates only for working out such metrics, use them wisely.
Paid Advertising
On the other end of the search spectrum we can assess if a competitor is buying AdWords keywords. To find out this information we can either type in some of the most important keywords relevant to our business and manually look for paid ads or use the SEMrush tool as we did with organic keywords.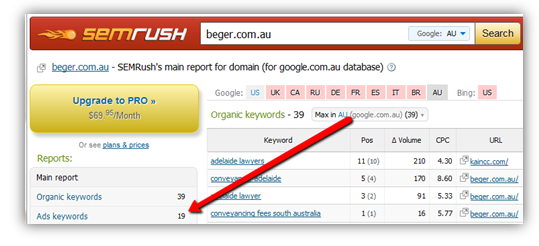 As the above image shows, we investigated how many AdWords' keywords a local legal firm were buying (www.beger.com.au).
Whilst no online research is perfect in the online space, conducting the above mentioned activities will yield valuable insight into a competitor's online strategies.
This is a guest post by Chris Schwarz from The Search Guys; an Adelaide based online marketing company.