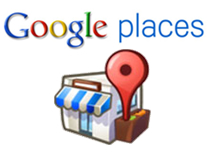 Have you claimed your free business listing in Google Places? If you haven't – you really should!! It is free after all, and as Google points out – 73% of all online activity is related to local content.
Originally called Google's 'Local Business Centre', this free tool was initiated to give business owners the ability to manage their presence within Google by updating their listing with opening hours, images, videos and plenty of other helpful information.
By claiming and updating your business listing at Google Places, you give your business the best possible opportunity to appear in the '7 pack' (the first 7 local business results) – so that people in your area will see your listing when they're looking for it. It's like free SEO! In order to help you maximise this free SEO, we've got some handy hints and tips for making the most of your Google Places listing:
1. Google has some fairly strict quality guidelines in place for business listings, so if you want to stay in their good books, it would pay to have a read of them. One of their biggest points is to avoid attempting to manipulate search results by using keywords in your Business Name or Address field. Google will put a 'black mark' against your name for cheeky behaviour like this.
2. Make sure that your listing has a 100% score. You can do this by following the quality guidelines as mentioned above, and by filling in all 20 fields within your listing. Surprisingly, something as simple as missing 1 field can make the difference between you showing up in the '7 pack' or not.
3. Get your clients to write a review on your Google Places listing. This is not only a wonderful promotion of your business, but it also has the potential to push you above one of your competitors in the results. Google has even compiled some hints on how to respond to reviews for you.
4. If you've got something within your listing that you'd like to highlight, you can add a tag to it. It will not affect search result rankings, and it will cost you money – but it does give you the opportunity to stand out from the crowd, much like a bolded or coloured listing in the Yellow Pages.
5. You can also include Additional Details about your business. It's easy to do, and allows you to clearly display important information. An example of Additional Information for a restaurant might be: Cuisine, Head Chef, Menu. If you'd like some help with adding this information, head to Google's help listing on this feature.
6. And finally, Google is currently inviting businesses with a Google Places listing in Australia the unique opportunity to leverage their listing with a Business Photo Shoot. To apply for this exciting and free opportunity, visit their official site (we have and we've got fingers crossed for some free photos!)
Hopefully we've given you some helpful hints to maximise your Google Places listing and get up in that '7 pack'. If you'd like some assistance with claiming your listing and leveraging it, feel free to call one of our helpful team on 1300 723 618.