Recently DBG was lucky enough to present to a small group of business owners as part of the Brand Task Force.
The presentation was aimed at giving businesses a quick digital health check. DBG chose to present on '5 Tips For Getting a Great Website', and in this 5 part blog series we'll cover the information we presented.
Part four looks at the ongoing work involved in having an excellent website.
Remember the old saying "Rome wasn't built in a day" – well the same goes for websites!
All good website projects shouldn't stop when the site is first launched. If you want to have an excellent online presence, you'll need to dedicate some time to it weekly to keep an eye on the following:
Content
Google loves fresh content! Not only do you need to regularly revisit the main content on your site (i.e. your About Us page) to ensure that it is up to date and relevant, but you should also devise a content calendar that forces you to write fresh and engaging content for your news section or blog on a regular basis.
When making this content plan, keep the needs and wants of your previously identified target audiences firmly in mind – there's no point writing content if no one will find it useful or interesting.
Imagery
Simply changing the imagery on your website can give it a complete new look. If you have a rotating feature banner on your homepage, we'd recommend having a reminder to change it regularly. Not only can it be used to direct website traffic to your latest product special, or your latest piece of news, it can also give the website a totally fresh feel. Take a look at the Autism SA site as an example. Same website, totally different look as the banner image is changed: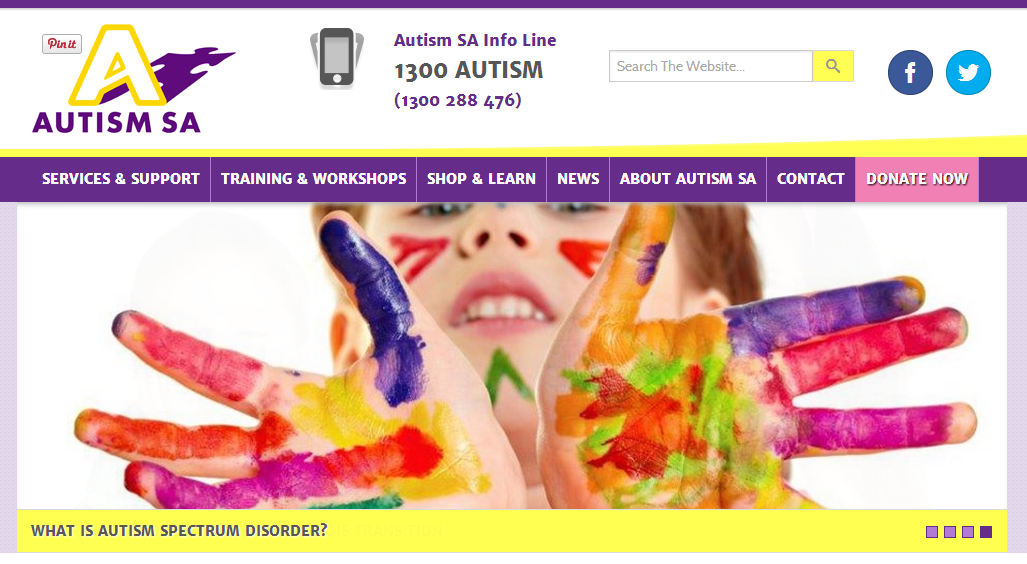 Imagery can also be updated to mark the different seasons or special events, such as Christmas, Mothers Day, Easter, ANZAC Day, and more. But don't use seasonal imagery just for the sake of it. It will be far more powerful if you can relate it to your product/service offering, or the needs of your website users.
New Features or Additions
Not only do you need to add fresh content and imagery to the site, you must always think outside the square about what you could add to your website. Here are some suggestions:
Embed new social media platforms or feeds.
Add an image gallery.
Include a PayPal 'Buy Now' button so people can purchase your product online.
Add a secure login section so you can offer members exclusive content.
Add an Events Manager and Calendar so you can showcase upcoming events.
Ensure that your chosen content management system is using the most recent release/version.
The list could go on!
Fresh content will not only help with your websites' ranking in the search engines, but it will also mean that your valued website visitors have a reason to keep revisiting your site!
Stay tuned for the final part in our five part series where we will give you some tips on selecting a great web designer to work with.