Recently DBG was lucky enough to present to a small group of business owners as part of the Brand Task Force.  
The presentation was aimed at giving businesses a quick digital health check.  DBG chose to present on '5 Tips For Getting a Great Website', and in this 5 part blog series we'll cover the information we presented.
Part two outlines the importance of identifying your target audiences, and working out how to engage with them.
Consider your Audience
Part of the planning process for your new website needs to look at who your audience is.
Who are your target market?  You may have already set this information out in your marketing plan, so review these and see if they are suitable for the website.  Remember though that your website target audience may be different to your broader target audiences, depending on what you're offering through the website.
Once we know who these audiences are, we need to humanise them!  It helps to be able to picture these people if you're going to market to them effectively.  As part of our website development process we usually run through a persona building workshop where we actually build profiles for the key user groups of the website.  We want to know things like their gender, age bracket, level of education, geographical location, hobbies, and internet user experience.
By building a persona for each of our target audiences, we can then tailor your website imagery, content and calls to action around their specific needs.  DBG client Owl Financial Management does an excellent job of this on their Who Are You page. Their key audiences are Singles, DINKs (double income no kids), Young Families, Executives, Retirees and Business Owners.  Because the sorts of information and services that they need to offer these groups is very different, they've got a different content page for each, linked to from this nice graphic: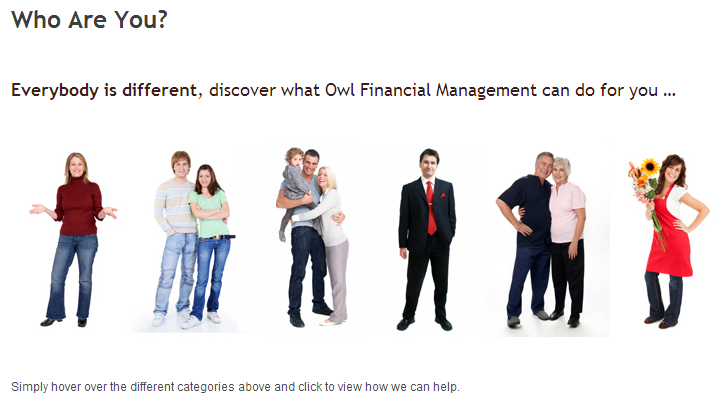 We can use the DBG website as another example.  One of our target audiences is Marketing Managers.  We generalise that these people are usually female, aged 25-50, located in the Adelaide metropolitan area, tertiary level of education, and good internet user experience.  Let's name this person 'Sally'.  When Sally comes to my website, I know that she's looking to do the following things:
Confirm that we are local, Adelaide-based website designers, as the company she works for prefers to deal locally (as do a lot of South Australians!)
Review our portfolio to see if we have a good level of experience and a solid breadth of work
Make contact easily
Knowing each of these things allows me to ensure that they are within easy reach, in a number of places on our website.  Our portfolio is easily accessible from our top menu, and we also have client testimonials scattered throughout the site.  I've also given her multiple methods to make contact by having our phone number clearly displayed in the header on every page, as well as the footer, a LiveChat function that Sally can use 24/7, and  a simple contact form on the contact page.
So to summarise – before you begin any kind of design work on your website, first stop and identify who your target audience is, what they look like, and what they want out of your website!
Stay tuned for part three in this series which will cover critical website design factors.