If you do anywhere near the amount of online shopping that I do, it's likely that you've come across one of Google's Trusted Stores. They're identifiable by this small badge:

When clicked, the badge will expand to show further information. This is what appeared when the badge is clicked on TheIconic.com.au: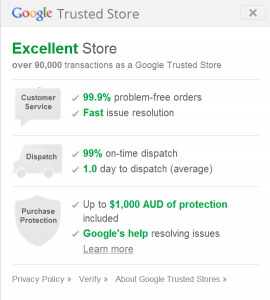 Google states that these stores mean you can "Shop knowing you'll receive reliable shipping, excellent customer service, and free purchase protection".
So how does a store actually get this accreditation? We've found that you need to:
Have your own SSL Certificate installed and running on your site.
Be consistently processing more than 200 orders within a 28 day timeframe. This averages to just over 7 orders per day.
Not sell restricted products or services, such as weapons, or pharmaceuticals.
Use real shipment tracking numbers so that Google can check that your shipments are delivered on time.
Provide reasons when an order has been cancelled.
And respond to all customer issues within 1 business day.
The incentives for joining up are fairly convincing when reading up on the Success Stories coming out of the US. Take this example from Todd Anthony at DiscountFitters.com, who saw a 12.8% increase: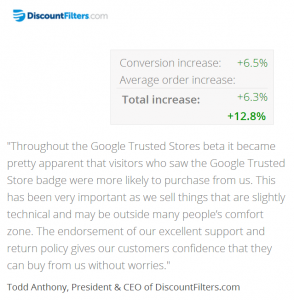 The Google Trusted Store program is currently being piloted in Australia with a limited number of retailers, but we imagine that it won't take long for them to expand the program.
In the meantime, we'd love to know which sites you might have seen the Google Trusted Store badge on so far?
And whether seeing this badge would make you feel more comfortable in purchasing from that store?