As Christmas is drawing closer and closer, it's an important time for you to review your digital presence and make sure you're ready! This includes website, social media, email marketing – the lot.
For most businesses, this is the time of year where we all wind down and prepare for some relaxing time off with our friends and family. If this is you – then we'd recommend the following:
Highlight your shutdown period – Make sure you have the dates your office will be closed featured somewhere prominently on your website. Ideally in the header area near your logo, or perhaps on a rotating feature image if you have one. We'd also recommend popping these on your contact page as well, because there will always be one person who works through the break and will try to get in touch.
Add a Christmas touch – Adding a little festive-themed touch to your website isn't hard, and gives users the reminder that your website is regularly updated. Try a little Santa's hat on your logo, or maybe a wrapped gift alongside it? It doesn't have to be too kitschy! This may seem silly, but as reported on the Nielsen Norman Group website: "Even small holiday decorations can increase joy of use and make websites feel more current and more connected to users' lives and physical environment. The key is to commemorate without detracting from your users' main reasons for visiting the site."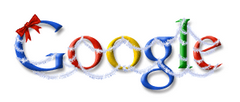 Email customers and stakeholders – Ideally you'll already be doing regular email marketing to your customers and stakeholders, so just make sure somewhere between now and the day you close for Christmas you email everyone to advise of your shutdown period, and of course to wish them a Merry Christmas!
Update your email signature – Adding your shutdown period into your email signature is another great way of reminding people of your planned Christmas closure.
Setup your out of office assistant – This is a no-brainer, but setup your out of office assistant so that anyone who does email you will get an automatic email mentioning your shutdown period.
Update social media – We could try to give you some hints here, but the team over at Social Media AOK have written an excellent post on how to Tune Up Your Social Media This Christmas. In particular, we like the suggestion of pinning an announcement to your Facebook page – but that's really just scraping the surface!
For the 'other half' out there, the retailers with eCommerce online stores, this is your busiest time of year! So for you we'd recommend the following:
Add a Christmas touch – As above, try a little festive-theme across your website. Maybe a specially-designed header could do the trick? Try extending this festive-theme to your product deliveries as well – maybe enclose a little blank Christmas gift tag for the customer to use when gifting your item? Even a candy cane! Sometimes it's these little extras that will get your customers raving about you.
Give a countdown – More and more people are doing their Christmas shopping almost entirely online (the author included!), so make sure your cut-off dates for pre-Christmas delivery are clearly stated. Below we have an example of how CellarMasters have chosen to do this: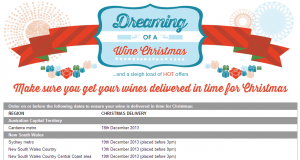 Highlight any shutdown period – Unlike the websites mentioned above, you eTailers will most likely be trading all the way through! However there are public holidays spattered in throughout the break, so make note of those dates on your website, and perhaps on any automated emails that go out to customers (i.e. after a purchase) – this helps people to adjust their expectations for service and delivery.
Prepare all emails – Most online stores do a series of email marketing mailouts in the lead up to Christmas, and of course during the post-Christmas sales frenzy. We'd advise pre-designing all of these ahead of time to make life easier on yourself during a busy time of year!
Create a gift section – If you haven't already, create a special product category for gifts. People are time-poor, so the more you can help them with their online shopping the better! Gifts for Her, Gifts for Him, Gifts Under $100 – these are the helpful sorts of categories people will like to see. Below is an example of a nice header Myer have designed for their 'Gifts for Her' section:

If you need help with any of the above on your website – just give the team at DBG a call on 1300 723 618. We'd be delighted to help you prepare your digital presence for Christmas.