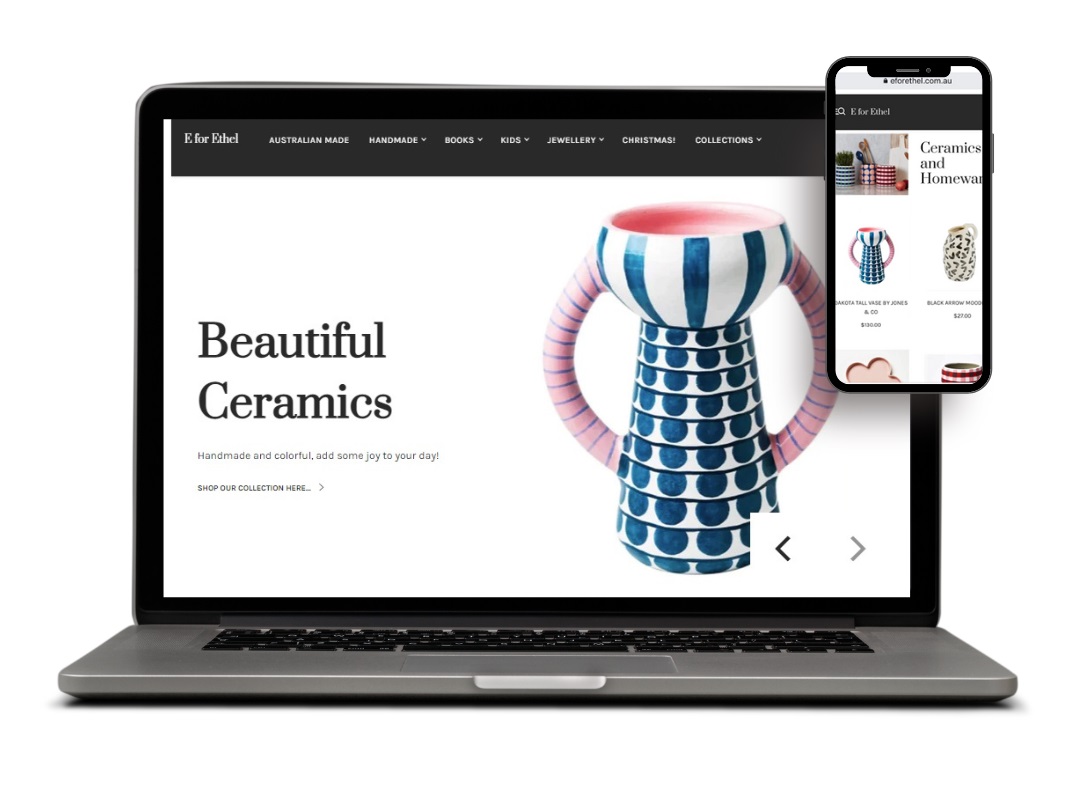 E for Ethel is a South Australian, independent family run business, established in 2011 as a café and retail store in North Adelaide, then moving to completely online trading in 2021. E for Ethel aims to be a destination site, with interesting products, affordable prices and quick and excellent customer service.
The Technology
After moving completely online in 2011, E for Ethel required some updates to their Shopify store to improve functionality, increase sales conversions and setup apps to increase sync functions to save time through manual updates.
The Challenge
The Handy Shopify theme created the look and feel the company wanted, however some of the design settings affect user experience and the completion of sales.
The Strategy
Updates were made to move the shopping cart button to a more logical and visually appealing location, as customers struggled to find it on a mobile device with the current settings, and a back in stock app was installed to automatically advise customers when a sold out item is restocked.
They also required the homepage menu to become 'sticky', enabling it to be seen at the top of the screen even once the user scrolls down on the page, and to increase the font size to create harmony between the main menu and the page content.
Finally some automations were required to enable a sync between their CRM systems Mail Chimp and Mail Munch to prevent the need for manual updates.
The Results
As a result of the work completed by DBG, the site is much more visually appealing with those issues resolved, and the client has had an increase in sales.
Testimonial
"We are so happy with the work performed by DBG, not only have they resolved some major issues for our site function, but the improved automations save time, and make it easier than ever to communicate with our clients. We've noticed an increase in sales since the changes, and our analytics show us that customers are enjoying their site experience much more".