Writing copy for your website can be a tricky thing – How much should you write?   What should you write?  What will people actually want to read??  Let's take a look at some tips that you can consider when writing your copy:
1.  Think of the reader
Before commencing writing any copy, it's important to consider the individuals that will be reading it.  What do they need to know about your business, product or service?  Many companies make the mistake of writing War & Peace on their websites, without considering what people actually want to read!  Another tip from Joanna Wiebe is to talk with your users like they're in the room WITH you, instead of talking at/to them as this will help you to craft a more engaging message.
2.  Craft engaging headlines
You've just sat down with a newspaper, and as you breeze through the pages you skim the headlines, stopping to read anything that seems of interest.  The same goes for websites!  Did you know that 8 out of 10 people will read the headline copy, but only 2/10 people will read the rest (Source:  Copyblogger).  You need to come up with engaging headlines to give people a reason to want to read on.  Some good ideas include using numbers (check out our headline!), using strong words like "free", being descriptive, making them short, sharp and shiny, making it remarkable where possible, and focusing on the most important benefit or the key problem that your article exists to solve.
We like this headline-writing formula from Jeff Goins:
Number or Trigger word + Adjective + Keyword + Promise
3.  Use sub-headings
It is well noted that readers scan pages – not read them.  Break up your content by providing sub-headings throughout to make consuming the content easier.  Well-executed sub-headings can also guide users straight to the key information that's of interest to them.
4.  Pictures say 1000 words
Yes this blog piece is supposed to be about how to write excellent website copy, however the best website copy is often broken up with meaningful imagery.  Effective use of imagery can help convey your message further, and articles with images get 94% more total views (Source:  Jeff Bullas).  Try to avoid bad stock imagery, make sure you include descriptive captions on the images, as well as ALT tags for SEO purposes.  An example here from the DBG website:

5. Go figure
Humans are drawn to figures, as they're usually representative of fact! Include figures wherever possible. The folks over at Nielsen Norman Group also recommend using digits instead of letters when writing figures, (i.e. '16' instead of 'sixteen') as they often stop the reader's eye while they're scanning the web page.
6. List list list
People love lists! They're a fantastic way of communicating things quickly and in a manner that's easily digestible by users. Think about what you can put into a bullet point list. Maybe your product benefits, or your unique selling points?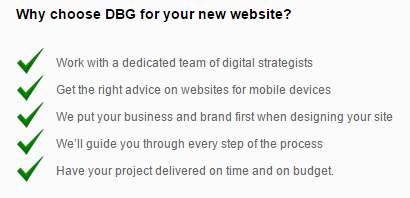 7. Back it up with testimonials
Who better to help sell your product or service than a happy customer? Including short testimonials (i.e. 1-2 sentences) on a product or service page can be very powerful, particularly when accompanied by identifying information.
If you're in a B2B market, this means that a testimonial should at the very least have the name, job title, and company name – bonus points if you include the company logo to leverage the credibility of their company:
If you're in a B2C market, include the name of the individual and perhaps their suburb – bonus points here if they'll let you use an image of them with their product or standing in front of the new kitchen bench you've built!
Depending on how they're presented, testimonials can also be a great way to introduce bold or italics into your text to create interest.
8. Be mindful of keywords
Yes keywords are important for search engine optimisation, however stuff them in too many times and you'll make your content unreadable by the most important things…. your potential customers!!! And recent studies have shown that over-stuffing of keywords can actually have a detrimental effect on your rankings. Our rule of thumb would be to put them in there only as often as actually makes sense when you're reading it.
_____________________________________________________________
So there you have it – our 8 tips for writing excellent website copy! Have you heard any other tips you could add to our list?