Imagery is a very important component of any marketing activity – print advertising, websites, social media, printed brochures, signage… the list goes on.
Well-chosen imagery should allow your target audience to subconsciously identify with your brand/company/product.  For example, if we're selling camping gear and we want to target Mums and Dads – as they'll be the ones doing the product research and making the final purchase decision – we'd want to use images of families enjoying themselves while camping.  By including a family we're helping the potential customer to picture themselves using that product, and by showing them all as enjoying themselves we're selling the 'lifestyle' decision of using that product.
And we all know that a picture says a 1,000 words – right?
So why do we see so many businesses continue to use terrible stock imagery?  Even though all shot in high-definition and usually very sharp, poorly selected stock imagery featuring people can cheapen the overall feel of everything, not to mention it might alienate the very people that you want to engage with.
Funnily enough, actor Vince Vaughn has recently posed for a series of them:  Vince Vaughn and Co-Stars Pose for Idiotic Stock Photos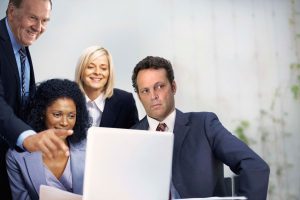 So what is the solution?
In an ideal world a professional photographer would be hired to come in and do the job as this would give the company a selection of high-quality, unique images incorporating their own staff and premises that can be used across a broad range of applications.
However most small to medium businesses will find using a photographer cost-prohibitive.  If this is the case, and stock photography is required, we've got branding expert Astrid Varga of We Create Brands to give us 5 tips to consider when choosing images from stock photo libraries:
Purchase from quality stock libraries:  There are a number of free stock image websites, however you run the risk of choosing the same image as your competitor or vice versa.  Purchase images from stock libraries to ensure your marketing communications are more unique.  You could try BigStock or Thinkstock by Getty Images.
Reflect your brand personality:  Choose images that reflect your brand's personality.  Your business' brand personality may be 'corporate' so choose more conservative images, but if your brand personality is 'down to earth' you should choose more relaxed images.
Avoid Americanised images:  If you're an Australian company, make sure you choose images relevant to the culture and landscape.
Incorporate your colour palette:  Find images that include a similar colour palette to your business' branding.  For example, if your corporate colour is green choose images that include green objects that will complement your brand identity.
No bubble men:  Don't use bubble men – this is a cardinal sin that brands can commit when choosing stock imagery.  You know the ones, they include white figures and red or multi-coloured objects in the images.  They scream 'amateur', so whatever you do, please don't use bubble men!