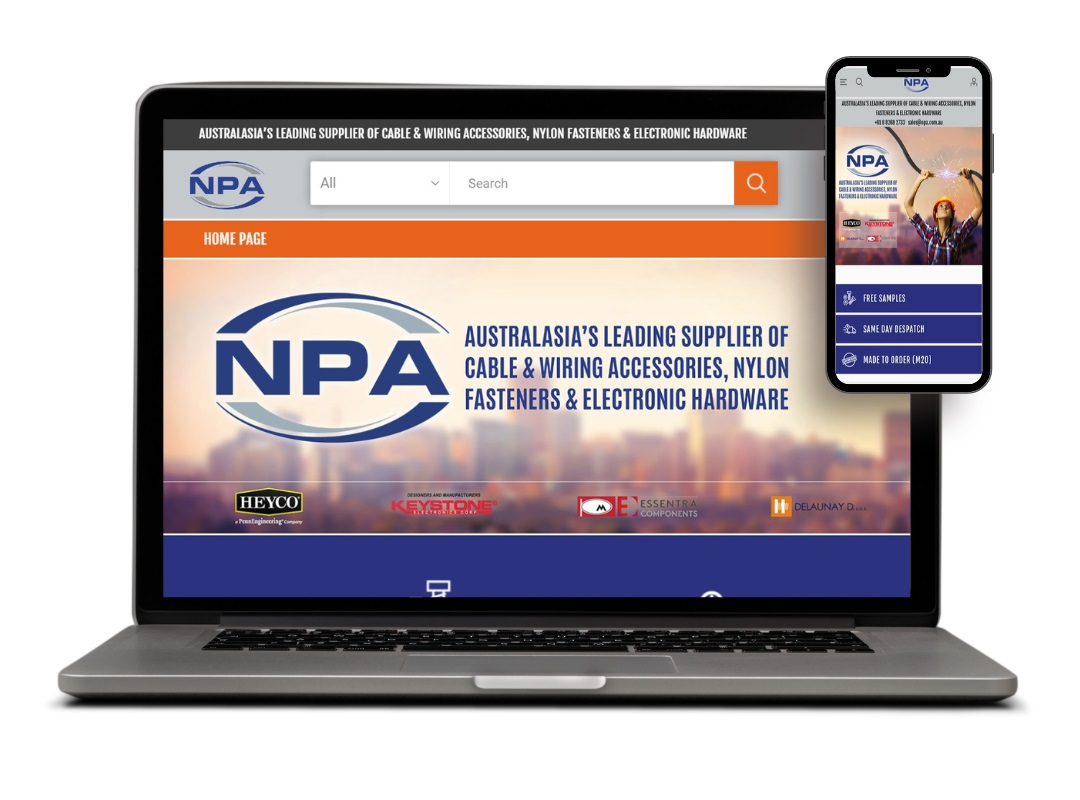 NPA is a leading supplier of Cabling & Wiring Accessories, Nylon Fasteners and Electronic Interconnect Hardware in the Asia Pacific region. NPA is located in modern purpose-built facilities in Kilkenny, South Australia, and remains a privately owned South Australian company, with the same family ownership since it's foundation in 1986. With a focus on building partnerships with customers and suppliers, NPA continues to deliver excellence across the supply chain. Being focused on refining their process and systems requires a fast and efficient website.
The Technology
Built on DBG's LiveCube powerful eCommerce software, the project required large amounts of customisation to achieve NPA's desired goals.
DBG's custom LiveCube software, a powerful eCommerce platform that is designed to seamlessly integrated with ERP, POS, accounting, and warehouse management systems. LiveCube helps streamline online sales, internal processes, distribution and fulfilment.
LiveCube, based on the latest Microsoft technology, is fast, secure, scalable and designed to include many functions needed in today's fast-moving eCommerce world, with the ability to evolve and continue to push the boundaries into the future.
The Strategy
The requirements were quite complex from both website and integration points of view and required multiple workshops, requirement gatherings and the creation of a detailed scope.
We needed to create a Business to Business solution that links NPA's ERP Sybiz system with customers to improve automation, allow customers to login and order products online, linked and multiple pricing structures up to four decimal places, across system views of orders and invoicing, integration of NAB and Paypal payment gateways, and filtered search results.
The Challenge
The key challenges of the LiveCube development included:
Product pricing was required to be updated to 4 decimal places, requiring extensive updates across the entire solution to allow for the additional 2 decimal places
These additional decimal places caused issues with rounding with GST calculations, Sybiz integration of sales orders and PayPal integration which all required solutions
Product view results were updated to show price breaks and further information including the unit of measure
The product filters required heavy customisation to allow customers to select what they want to filter by and display those results
The key challenges of the LiveSync integration were:
NPA had a number of custom fields within Sybiz that needed to be synced to the website to automate the creation of specification fields for the products
NPA had particular rules on what locations of stock could be synced to the website that were required to be setup
The pricing structure was quite complicated and included multiple pricing levels and breaks that were required to be synced in almost real time to the website
NPA had challenges with their Unit of Measure, Minimum Order Quantities and Allowed Quantities and internal pricing structure not lining up correctly, which meant manual work on both ends and follow up data cleansing by NPA
Sybiz did not have the ability to handle payments of non invoiced orders so DBG worked closely with Sybiz to create a new deposit function will then allowed NPA to reconcile a sales order with a website payment.
The Results
The final solution successfully meets all of the project aims, integrates seamlessly with Sybiz using DBG's LiveSync middleware software, and NAB and payment gateways.
The solution is only in the initial stages of launch and NPA has already seen daily orders from existing and brand new customers. The NPA sales team are only beginning to show the benefits of the solution to their existing customers and NPA understand that this is an important asset that will help them grow their business.