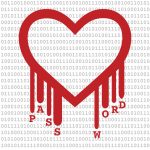 You may have heard something in the news in the last week or so about the Heartbleed Bug and websites. There's been much panic about the security of websites and personal data, so we thought we'd give you a bit of information about what this bug is and if it should be of concern to you.
What is the Heartbleed Bug?
The Heartbleed Bug is a vulnerability in websites that use the OpenSSL Encryption Software. This software is widely used on Linux and other Unix servers with PHP.
SSL Certificates are put in place to protect information that is transmitted over the internet, such as credit cards. You can be spot a website with an SSL Certificate by locking for a "closed lock" icon in the browser, or the https:// in the URL.

The Heartbleed Bug actually allows anyone to read the memory of the systems protected by the OpenSSL software, which could just be random data, or it could actually be sensitive information such as names, passwords, and so on. The information stored in the memory is any information that was just entered, or accessed through the website.
The information gained can lead to identity theft, stealing of data and other criminal activities.
Does it affect any services or websites offered at DBG?
The good news is that no it doesn't affect any services or websites that DBG have created. The OpenSSL software is primarily used on Linux and Unix Servers with PHP websites, while DBG develops on Microsoft Windows Server Platforms and Microsoft .Net. websites.
The SSL Certificates that DBG use is secured by a minimum of 2048 bit encryption by trusted and well-known providers such as Verisign, GEO Trust or Thawte, and are based on a high level of encryption, so there is no need to worry about any OpenSSL issues with DBG.

What if DBG didn't create my site?
If you do have an SSL certificate on your website and DBG didn't create the site for you, and you are worried you may be affected by the Heartbleed Bug please feel free to contact our Support Team by emailing support(at)dbg.net.au or calling 1300 723 618 and asking for Eliza. We can have a look over your site for you to make sure it is safe.
More information on Heartbleed
For more information please visit the official Heartbleed website – http://heartbleed.com/