The Advertising Standards Board sent a shudder through corporate Australia in 2018 when it ruled that all Facebook posts should be considered advertising material and brands are responsible for every post written by fans on their branded Facebook pages.  To quote:
"The Board considered that the Facebook site of an advertiser is a marketing communication tool over which the advertiser has a reasonable control and could be considered to draw the attention of a segment of the public to a product in a manner calculated to promote or oppose directly or indirectly that product.  The Board determined that the provisions of the Code apply to an advertiser's Facebook page.  As a Facebook page can be used to engage with customers, the Board further considered that the Code applies to the content generated by the advertisers as well as material or comments posted by users or friends."
(Read the full ASB ruling)
So brands must now moderate user generated posts on Facebook to ensure they are not sexist, racist or vilify sections of the community. They must also ensure every post is factual.
If this is to be enforced – as the ASB has for Diageo, a brand built on a vast array of alcoholic drinks – there will be serious implications for every company with a social media strategy that engages the public.  Pages will need to be policed 24 hours a day, seven days a week and the number of employees responsible for managing social media tools will grow. It may see the management of pages farmed out to digital agencies with plenty of in-house page administrators looking for other tasks to do.
But the sheer volume of work involved in policing every post is just too big to contemplate.
Take, for example, the Jetstar Australia Facebook page which has just over 175,000 'Likes', and would receive hundreds of comments and posts every single week.  While pages can be set up so that the page manager must moderate all comments before they appear on the site it is inconceivable that a brand or a parent such as Qantas would pay an employee to moderate every one of those comments. Especially when you look at a recent post by a user on the page that resulted in over 8,300 comments – how long would it take to go through these?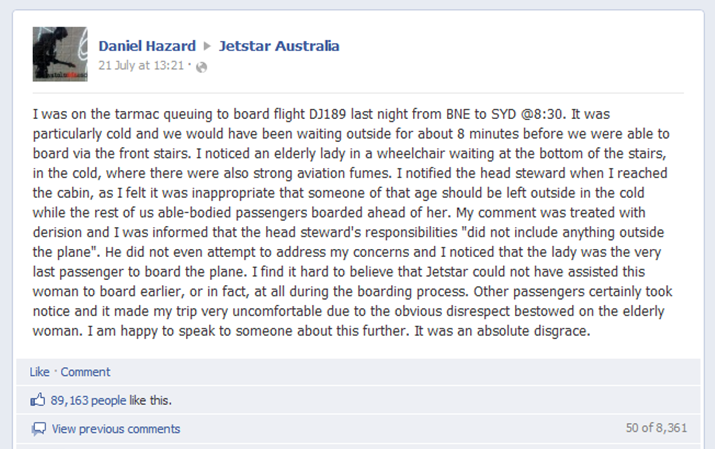 The tragedy about this decision is that it is totally contrary to the reason social media has taken off in such a big way. Humans love expressing themselves, particularly online.  The beauty of social networks like Facebook is their immediacy, and their (usually) un-moderated honesty.
And Facebook pages are a great way to keep brands honest.  I bought an item online from an Australian online retailer recently, and it took more than a month to be delivered (despite their site quoting '5-7 days').  In the interim I phoned the customer service line and emailed repeatedly to find out where my delivery was. I got no response and no interest in my query.  In my despair and concern over potential money lost, I decided to post a comment on the brand's Facebook page. The response was immediate and my parcel was located. I received an email from the retailer within the hour, and the parcel arrived as an urgent delivery not too long after that!  Ah, the power of social media!
Adelaide-based non-profit organisation Connecting Up held a TweetChat under their hashtag #npau regarding the ASB ruling and the implications for brands. The responses were interesting and show a balanced perspective on the ASB ruling and importance of getting it right on Facebook:
@ElizaCussen I can't decide.  A paper is resp. for letters to the editor, so why should FB be under different rules?
@WCH_Foundation I think it's our responsibility – it's our page & our housekeeping as such.
@Syneka Offensive comments need to be removed ASAP.  Negative comments should be engaged.
While these three responses show that perhaps page managers think it might be their duty to moderate the comments on their Facebook pages, we wonder how a big brand might fare?
We'd love to know what you think!  Do you think brands should be responsible for what's posted on their Facebook pages?  Do you like the ability to post on a brand's Facebook page and see it appear immediately?  What do you think the implications are for delayed moderation of posts?