We know all too well about businesses on Facebook and Twitter – but what about LinkedIn?
Touted as the 'place for professionals to connect', LinkedIn has now introduced new features that refocus the platform from individual users to now allow companies to create pages (profiles) for themselves.
As covered in the LinkedIn Learning Centre, Company Pages 'present an opportunity to reveal a human side to your company'. Users can follow your company, they can check out the people who work for you, and even review your products or services for other users to see.
Company Pages are free, really simple to use and can be edited by either all employees with a valid email linked to the company domain, or simply for designated users only. Here are our hints on how to maximise your Company Page…
In the Overview tab:
1. First things first, upload a logo. LinkedIn also gives you the ability to upload a 50×50 pixel square logo that will be used in network updates, so make use of this. We made ours a nice purple square so it stands out: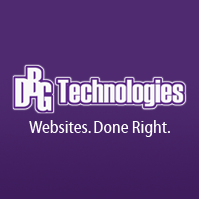 2. Enter all the basics: Company Description, Specialties, Company Type/Size, URL, Industry, Year Founded, and Company Location. The location bit is excellent as it provides an interactive Google Map: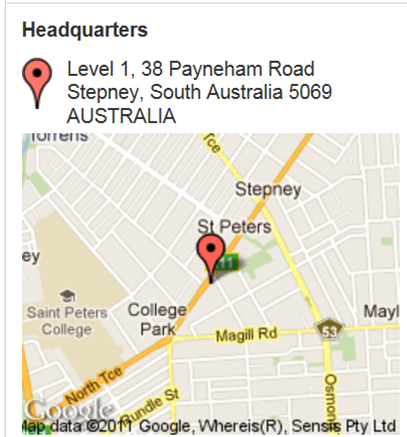 3. Tap in your Twitter and Blog links – providing these creates a cool feed on your Company Page with dynamic content, and will hopefully pick you up some more Twitter followers or Blog readers.
In the Products & Services tab:
4. Give an overview of what your company offers – it doesn't have to be 'War & Peace', we'd suggest making it snappy. Give users a reason to want to read more about what you have to offer.
5. You can upload up to 3 images to promote your company – so use them! In our case we decided to use screen shots of some of our recent website projects and link each of them to our website Portfolio. The 3 images are 640 x 220 pixels, so try to create images that are suitable for this size and proportion. And make them eye-catching!
6. Add to the dynamic content on your Company Page by uploading your company YouTube clip if you have one. This is done by copying and pasting the YouTube link into a designated field – it couldn't be simpler.
7. Now you can add individual Products & Services! Not only can you have an image and text, but you can also have a link to the relevant product/service page on your website as well as the contact details for the individual rep within your company who can respond to inquiries about that product/service. Some hints for this area… try uploading a unique image for each product/service that you add to make the page more visually appealing:
We'd also recommend putting a call to action at the bottom of each block of text, such as "If you would like to discuss getting a mobile website template developed for your business,give us a call on 1300 723 618."
After you've finished your Company Profile and checked it over:
8. Encourage people to follow your company. Of course your employees should all be doing this as a matter of due course, but invite others to follow you as well. We place a LinkedIn logo on our website that links to our Company Page; you could even add a link to your email signature as another option?
9. Ask people for Recommendations for the Company Page! Other users can recommend your company as a whole, but they can also recommend your individual products and services. What better way to promote yourself as a company??

Check out the DBG Technologies LinkedIn Company Page – tell us what you think!
We think the LinkedIn Company Pages are a great way to promote your business to a network of professionals. If you'd like some help with setting your page up, or even some help with a LinkedIn advertising campaign for your business, give us a call on 1300 723 618!