The online world is a little bit excited with the launch of Pinterest Business Profiles.
Launched in February 2010, this new social medium allowed users to create pin boards where they could share and organise images of things they have found online.  People were starting boards for their hobbies, weddings, gift ideas, and more.   While the network didn't initially cater specifically for businesses, it didn't stop people flexing the personal profiles to suit their businesses!  DBG was indeed one of these groups, not wanting to be left behind in a fast-moving online world.
However this week the boffins at Pinterest launched the long-awaited Business Profiles.  The official Pinterest comment has been that both personal and business accounts have the same features, however if you sign up or convert to a business account – they're suggesting that you'll "receive updates on future products and services that will provide more powerful ways of reaching and understanding your audience on Pinterest".
Sounds pretty good to us!  So if you've got an existing account, how do you convert it?
First step, visit:  http://business.pinterest.com/ – and you'll want to click that big red button:
On the following page, you'll need to fill out all of your company details, remembering to try and make the About section particularly unique and compelling.  This is what visitors will quickly read before they decide to browse your boards, so use this space to convince them that they'd be missing out by not following you!
Once you've glanced over the legal bits and pieces, click CONVERT ACCOUNT and you're away!
One of the added benefits of converting to a business account is the ability to verify your website address.  By doing this, you show to people who may be searching for your company or brand on Pinterest that yours is the verified account.  For searchers, accounts that have verified websites will appear with a red checkmark: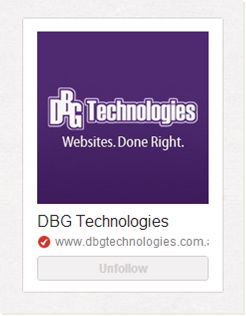 All you need to do is download a file, upload it to your web server (or get your Website Designer to do it for you!), and click Verify!  It all happens in a matter of seconds, and Pinterest has prepared some very helpful instructions.
Pinterest also have prepared a host of other benefits for website owners that make it easier for people to engage with you on Pinterest via your website: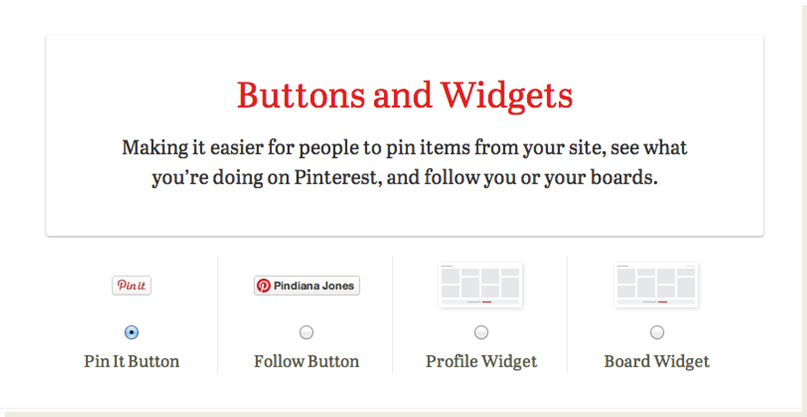 If you'd like help with some ideas for how you can maximise Pinterest for your business, or just help with embedding some widgets in your website – give us a call on 1300 723 618.
And if you want to check out our Pinterest activity:   http://pinterest.com/dbgtechnologies/