The inevitable is happening to Facebook in 2012; their growth rate is starting to slow down (5.5% so far in 2012, compared with 8.01% for 2012). Not because of product development or corporate management but because the market share of their target audience is decreasing. With more than 900 million users globally & difficulties in entering new markets such as China and Africa, Facebook is finding it more difficult to gain new users they don't already have.
Facebook is going public today and has every corporate investor in a spin. The latest valuation of Facebook is around $100 billion, making it more than 4 times the value of Google at the time of their IPO. Facebook has to start acting like a corporate listed company; aggressively investing & developing to increase revenue. This is evident in Facebook's recent $1 billion acquisition of photo sharing start-up Instagram. This ultimately leads to more changes in the Facebook system and further opportunities for the savvy business marketer. Here's a collection of new features that you must take advantage of:
1. Invest in your cover image
First impressions are everything for a potential customer and Facebook is now offering fanpages the ability to create a large cover image for further branding. The total size of the cover image is 851 x 351 pixels and is situated at the very top of your Fanpage. As this is prime real estate for the entire Facebook page, companies need to ensure that theirs is captivating & in-line with company branding.
Here's an example from Lance Armstrong's foundation, Livestrong, who have combined simplicity and their branding in their cover image.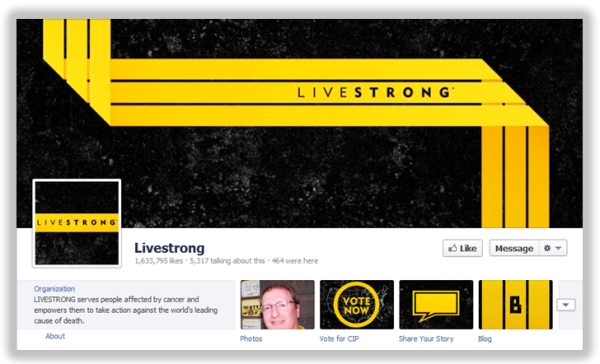 US startup 'Zipcar' which is an online service for sharing car rides across the US, have combined their slogan with rich imagery that purveys a feeling of freedom.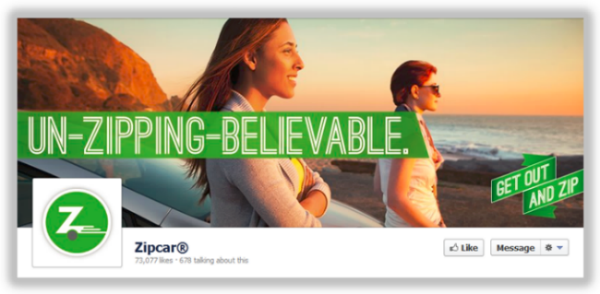 Facebook also has strict guidelines about what can and cannot included on a cover image. All images must
not convey any price/purchase information (20% off, download now)
any references to Facebook features (like, share or fan)
any contact information (phone numbers, web addresses, emails).
2. Understand the 'timeline' aspect of the Facebook 'wall'
The 'new' Facebook operates more like a timeline of events, rather than a 'wall' like functionality. This forces companies to update more frequently and revolve updates around current events.
One feature that all companies should take advantage of now is adding business 'milestones' to fanpages. Building up a chronological event history of your business is great content to share with your fans. Setting milestones is easy, it's another option with your status update box.
Another important feature of the new Facebook is the ability to pin an update to the top of your wall for 7 days. This is a useful feature to push important weekly updates to be more visible to your Facebook fans – a great suggestion would be to pin business call to actions.

3. Publish more visual content
Did you know that posts that include a photo album or picture can generate twice the amount of engagement as plain text posts?
We love consuming content via images and video; Facebook was quick to understand this and in the recent update they place more emphasis on displaying images. It's recommend to adjust your Facebook content strategy to be more image and video rich; here's an example from our Facebook page showcasing our recent mobile website developments.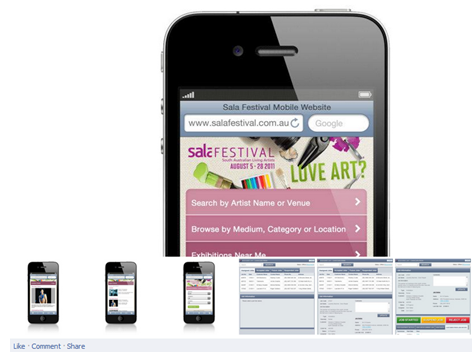 If you are stuck for visual ideas for your Facebook fanpages, think outside the box and create graphs, charts or other visualisations.
4. Feature Your Custom Tabs
You remember the old Facebook tabs? They might take a bit longer for you to find but they are still there! Not only have they moved location, but they can now be 810 pixels wide.
What should I create with a Facebook tab?
The main purpose of a Facebook tab is to drive a visitor to complete an action. This action is dependent upon your business goals and type, it might be to contact the business, a recent offer or event showcasing some of your ecommerce products.
Marketing company Hubspot use Facebook tabs for lead generating via a free ebook and also for subscription to their events. They are also featuring these tabs below the cover image –

Facebook also gives administrators the ability to edit the tab images (111 x 74 pixels) which provides fanpages with an extra ability to push users onto the tab page itself with a compelling call to action.
Changing Landscape
Although Facebook is a continually changing landscape it's important to remember the fundamentals. Content is king. No matter your industry, company size or business model; content always has been and will remain king.
DBG is able to offer a full range of social media marketing solutions; our design team is able to design your Facebook cover image and our online marketing consultants can help you plan your social media strategy. Our team of developers are always looking for a challenge and would love to hear your custom Facebook app idea!